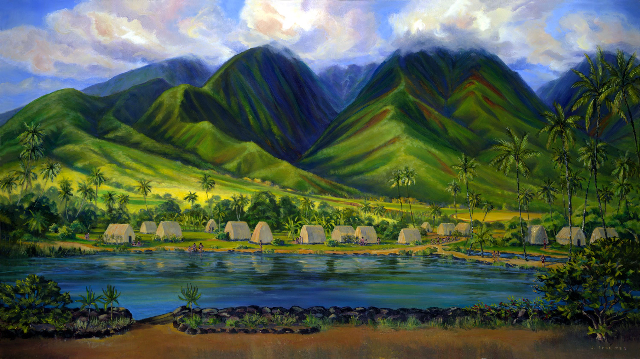 Painting by Janet Spreiter. If you use the image, please give her credit and considering donating to @JanetSpreiter on Venmo
Friends of Moku'ula was dissolved around 2017 and is no longer an active organization.
However, following the tragic Lahaina fires, there is a renewed interest in the history and restoration of Moku'ula and Mokuhinia.
For now this website will serve as a repository of some related articles, and some archival information.
---
Denby Fawcett: Show Respect For Lahaina By Restoring Its Once Lush Wetlands
It is too early to focus on rebuilding, but cultural advocates already see an opportunity to return to a Lahaina of the past.
Civil Beat, August 22, 2023
The return of powerful goddess Kihawahine could have significant impact on Lāhainā Community
Hawaii Public Radio | By Kuʻuwehi Hiraishi
August 24, 2023